Smoke Alarm Installations Brisbane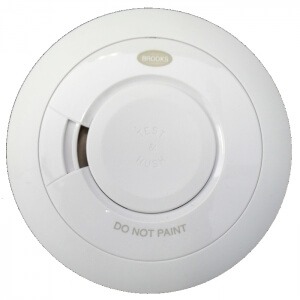 Trust Just-In Time Electrical and Brooks Smoke Alarms to Deliver Quality Smoke Alarm Installations and Solutions in Brisbane
Quality smoke alarms

Like anything you get what you pay for, all smoke alarms have to comply with the minimum standards as required by AS 3786-2014.  However not all smoke alarms are made the same and it is important to purchase an alarm with great features like:
Dust compensation
RF interlink compatible
Wired interlink compatible
Insect screen
Photo Electric
10-year battery reserve
Alarm event history recovery
We have been installing and maintaining smoke alarms for years and we only recommend Brooks smoke alarms.  They are the most recommended smoke alarm in the industry and you will find that most reputable smoke alarm companies offer Brooks as their premium alarm.
Unfortunately, you will find an influx of smoke alarms that are hitting the Australian market due to the new increase in demand.  While you will save with the initial purchase you might be disappointed in their performance which can result in the replacement of the alarms prematurely thus the initial savings are quickly wasted away.

Importance of correct installation and maintenance of Smoke Alarms
Smoke alarms play an important role in the safety of your family and home.  It is important to ensure that these devices are correctly installed and maintained to ensure maximum protection. There are over 1200 residential fires every year and over 150 deaths since 2004.  One call to Just-In Time Electrical and we can pop out and check to ensure that you have the correct type of smoke alarms and that they work correctly.

New Smoke Alarm Legislation
New legislation has come into play as of 1 January 2017 though the way/time the new rules come into play is different depending on the particular situation.  For an overview of the legislation, visit the Queensland Fire and Emergency Services fact sheet page. 
Houses built/renovated after 1 January 2017 have to comply with the new legislation.
Houses sold or leased have to comply with the legislation by 1 January 2022
All houses must be compliant by 1 January 2027
Why the change in the smoke alarm legislation?
After multiple deaths in Queensland in housing due to either no smoke alarms at all or non-functional smoke alarms.  Legislation has been put in place to ensure that Queenslanders have the best possible protection.  They found that the original type of smoke alarms the ionisation type were being either removed or disconnected due to nuisance alarms and that people were sleeping through alarms during the night.  This prompted the change to Photo electric alarms, interconnection and the placement of smoke alarms in bedrooms.  The new smoke alarm legislation ensures that you have as much time as possible to react to the unfortunate situation of a house fire and find a suitable escape route.   
What are the requirements under the new Smoke Alarm legislation?
Under the new smoke alarm legislation, you will be required to have photoelectric interlinked smoke alarms installed in bedrooms, hallways linking bedrooms and the egress path and on each level.  A great way to ensure you comply with the new legislation is to get a free home visit from the fire department.  They will come out and recommend the best installation for your particular situation, once this is done you can call Just-In Time Electrical to have your smoke alarms installed.  You can either book online here or call 13 7468. 
Types of Smoke Alarms
There are many types of smoke alarms but generally, there are 2 types:  
Ionisation Smoke alarm – this alarm detects small particles and is therefore better at detecting rapid burning fires, however, these detectors are also known to be the alarms that are set off by nuisance smoke eg. burnt toast.  Under the new legislation, these smoke alarms are NOT to be installed.  These smoke alarms do contain a small amount of radioactive material.
Photo Electric Smoke alarm – this alarm detects smouldering fires and is activated when particles enter a light chamber.  The QFES recommends these type of smoke alarms are installed.  The power source and interconnections of this type of smoke alarm vary:
240V with re-chargeable battery backup
240V with 9-volt replaceable battery backup
Battery operated with 10-year lithium battery
Battery operated with 9v replaceable  battery
Interlink via cabling
Interlink via RF signal
Smoke alarms for the hearing impaired
People with hearing impairment can use the standard smoke alarms and then link these to purpose-made vibration pads that can go in the bed and strobing lights that can alert you.  You can find some suitable hearing-impaired alarm products here.
Testing and maintenance of Smoke Alarms
Rental properties have specific requirements regarding the testing of smoke detectors but for standard residential premises, you should be testing your smoke alarms every month and replacing the battery every 12 months (unless 10yr lithium battery).  You can test the smoke alarm by pressing the test button normally located on the front of the alarm.
How do you check your smoke alarm?
Checking your smoke alarm is easy, you want to check its date, type, battery, operation and location.
Checking the date of smoke alarm
The smoke alarm should have either a manufactured date or an expiry date.  This will either be located on the back of the alarm or on the side of the alarm.  Smoke alarms have a life span of ten years.  If your smoke alarm is over ten years old or does not have any date on it at all you will have to get the alarm replaced immediately.
Checking the type of smoke alarm
On the back of the alarm, it will state that the smoke alarm is either photo electric or ionisation type.  Legislation states that smoke alarms must be photo electric.  
Checking the battery of the smoke alarm

This all depends on the type of battery, we recommend smoke alarms with either a 10 year battery of a re chargeable battery in either case the battery never needs to be changed.  However it is common to see smoke alarms with just standard batteries, these 9 volt batteries need to be replaced when the smoke alarm makes a chirping sound or every 12 months which ever comes sooner.  The long lasting battery types obviously will cost more up front but need literally no maintenance over the life of the alarm
Checking the operation of smoke alarm
Testing the operation of the alarm is easy and you should check the manufacturers instructions.  However for most alarms you should see a constant green indicator light and then a red indicator light that flashes ever 10 to 60 seconds.  You will then need to test the smoke alarm by pressing the "TEST" button.   This will make the smoke alarm sound and if interlinked with other alarms they will also alarm as well.
Checking the location of smoke alarm
Manufacturers have instructions for the location of specific smoke alarms that should be followed.  New legislation states that smoke alarms in residential properties must be located on each living level, egress paths, hallways to bedrooms and in each bedroom.  It is also important that smoke alarms are not located within 300 mm of a light or corner of wall or ceiling; 400 mm of air conditioning vent or fan blade.
Brisbane Suburbs That We Service For Smoke Alarm Installations

YOUR TRUSTED LOCAL SPARKY
5 YEAR WORKMANSHIP
TIMELINESS
CLEANLINESS
CLIENTS WE WORK WITH
As your leading home, commercial and industrial electricians in Brisbane, we have provided electrical services to some of the leading brands in Brisbane.
OUR COMMUNITY SUPPORT AND FUND RAISING
As electrician in Brisbane, we believe that as it is important for us as Brisbane electricians to give back to our local community that helps support us. We currently sponsor several local sports clubs and fund raising clubs. We believe that these community groups are the backbone to community spirit. The sports clubs we sponsor provide great facilities and training for the young kids and also help generate community spirit with their social functions.