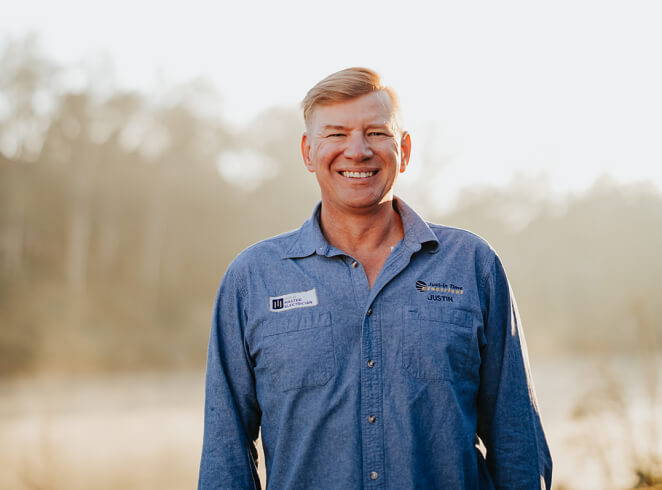 Justin Czarkowski
Justin has been in the industry since 1995 and worked his way from an electrical apprenticeship through to an electrical foreman in charge of several workers running large projects. Justin started Just-In Time Electrical in 2007 as he saw the need for an electrical contractor that offered unsurpassed expertise in the domestic market. Justin keeps in touch with the ever changing electrical regulations, acts and standards to ensure that his team are always performing at its best.
Kerry
Kerry has been with us since 2017, originally starting in the administration role. These days she covers everything from looking after the accounts to HR. Kerry has a wide range of experience and draws daily on her previous experience when she operated her own business. Over time, Kerry's versatility and dedication led her to take on more responsibilities, expanding her skills beyond her initial role.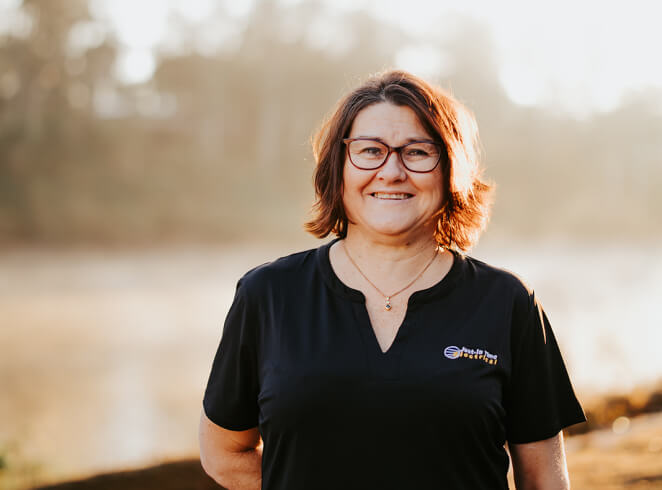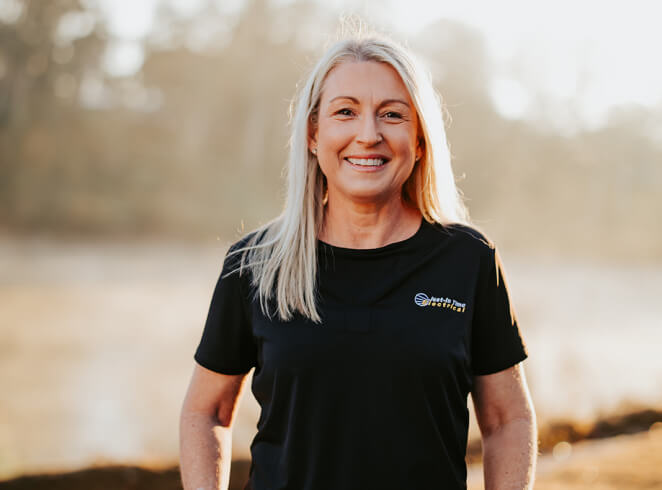 Lisa
Lisa joined the team in 2022 and took over from Kerry in the administration role. Lisa is the cool, calm, and collective one taking a complex schedule and making it all work. It is great to have her as part of the team. If you are ringing up stressed out about not having any power or just trying to find an electrician in the Western Suburbs, you can rely on Lisa to help sort your issue out.
Electrical tradesman and air conditioning specialist
Andrew Clair
Andrew has been in the electrical industry since 2001, first completing his trade as an electrical fitter working on motors in 2008 and found his passion for work in domestic and commercial properties. On completing his apprenticeship, Andrew completed many projects and started working for Just-In Time Electrical in 2012. Andrew is a key employee, he has a keen eye for detail and always communicates well with staff and clients. Andrew is also our air conditioning specialist. If your wanting a split system air conditioner installed in Brisbane you want this guy to install it.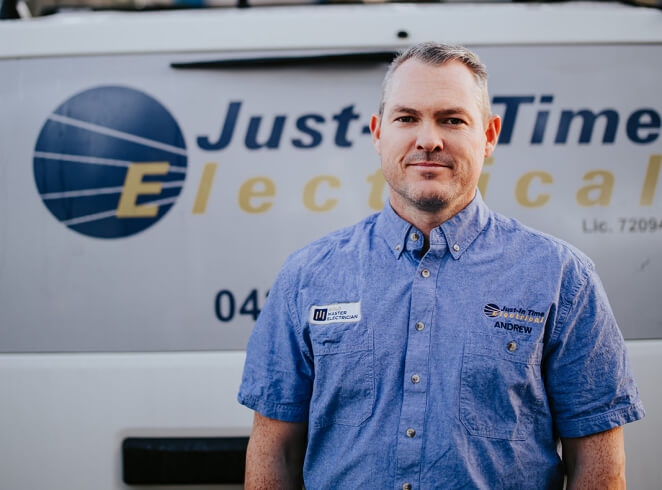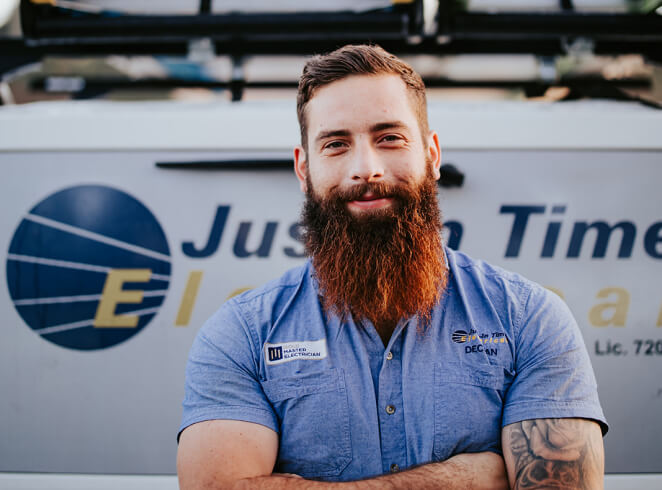 Declan Wreford
Declan joined the team in 2019 as a mature age apprentice and is only months away from becoming a qualified electrical tradesman. He has had varied experience with car mechanics as well as maintenance work at a local wedding venue. Declan is enthusiastic and is always ready to jump in and give a hand.
Allan Pham
Allan joined the team in 2022 and is growing in his electrical abilities in leaps and bounds. Allan loves his job and enjoys working with clients to ensure their needs are met. He always goes that extra mile to ensure work is compliant and your house is left clean and tidy when he finishes.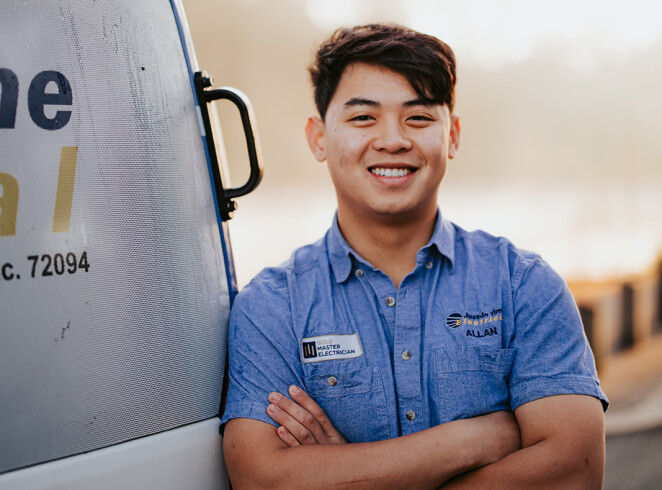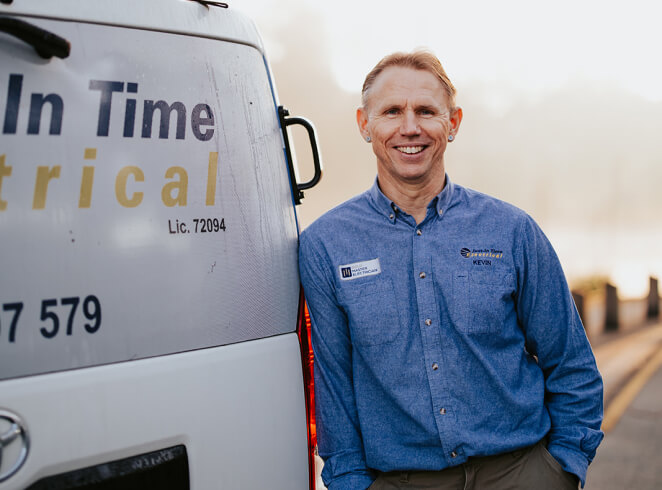 Kevin Coleman
Kevin started in the electrical industry in 1987 and received his contractor's license in 1994. 
Kevin worked over 15 years doing commercial work on large scale unit complexes, high rises, warehouses, nursing homes, shopping centres and shop/office fitouts including data and phone systems.
Kevin also has been a licensed carpenter under QBCC since 2010.
These days, he is tools down and based in our office taking care of the everyday running's of the business.
Electrical tradesman and air conditioning technician 
Nowlan
Nowlan has been working in the electrical industry since 2009, Nowlan is a dedicated tradesman who is extremely dependable. Nowlan is known for his ability to listen to a client's needs and carry out the work to the highest of standards. Nowlan started working for Just-In Time Electrical in 2017. Nowlan works well with our team and is always striving to deliver the best results for our clients. If you are renovating your house and want some great advice and installation work, you can lean on Nowlan's experience to help get the electrical installation all sorted.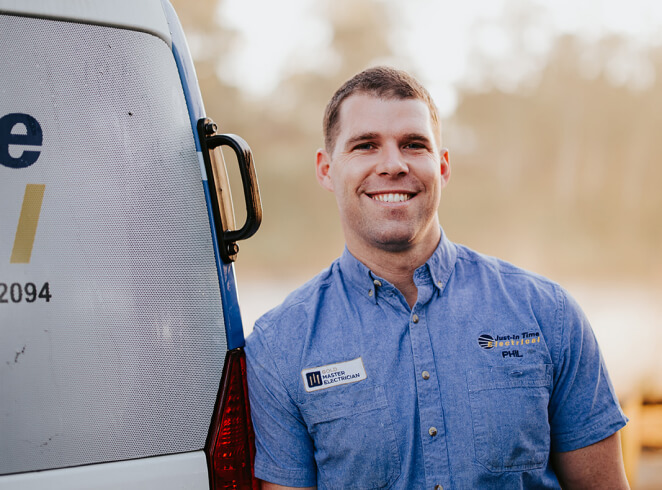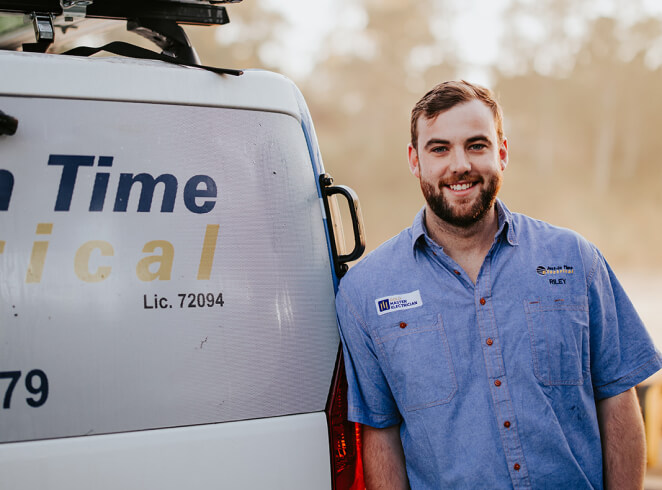 Riley Howe
Riley was welcomed into the team in early 2023 and is proving to be a great asset. Riley moved to Queensland from Chilly Canberra and has not looked back. 
You can find the toughest electrical job and Riley will take it on with a friendly smile. 
Ryan Herdson
Ryan only joined the team in mid-2023 and is already showing a keen eagerness to learn. Working with tools run in his family and Ryan takes inspiration from a long line of electricians.
Ryan approaches everyday with a great attitude and passion to provide high quality workmanship in whatever he takes on!
CLIENTS WE WORK WITH
As your leading home, commercial and industrial electricians in Brisbane, we have provided electrical services to some of the leading brands in Brisbane.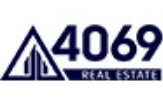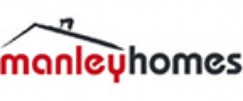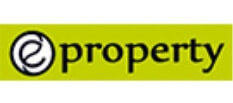 OUR COMMUNITY SUPPORT AND FUND RAISING
As electrician in Brisbane, we believe that as it is important for us as Brisbane electricians to give back to our local community that helps support us. We currently sponsor several local sports clubs and fund raising clubs. We believe that these community groups are the backbone to community spirit. The sports clubs we sponsor provide great facilities and training for the young kids and also help generate community spirit with their social functions.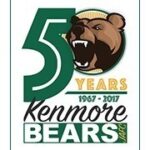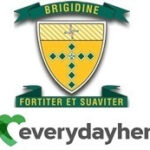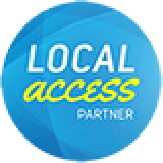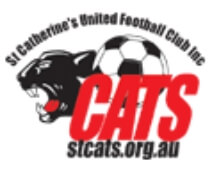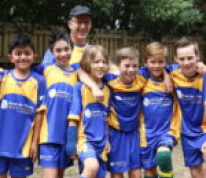 YOUR TRUSTED LOCAL SPARKY