Best Air Conditioning Installation Methods in Brisbane
Purchasing and installation of a split system air conditioner is a big investment.  It is imperative that the installation is carried out by a licensed electrician and air conditioning technician.   It is unfortunately very common to see unlicenced or non compliant work done when installing air conditioning.  When getting your air conditioner installed or quoted in and around Brisbane you should check this list with your installer: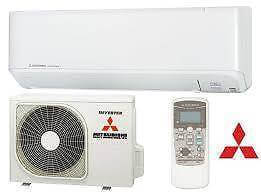 Air conditioning and electrical licence information:
Checking a company and installer for the correct licences can be tricky.  First you want to know what each licence does:
A restricted refrigerant handling licence can allow the installer to install a single head split system type up to 18kW for example a standard bedroom split system or a ducted system up to 18kW.  However this licence does not allow the installer to connect to the electricity supply or even run any cabling even if they have a restricted electrical licence.
A restricted electrical licence means the installer can replace like for like parts, they can not install any new items or electrical wiring.  A restricted electrical licence holder could replace a blown capacitor in the air conditioner.  This work must be carried out under an electrical contractors licence.
An electrical mechanic's licence means that under an electrical contractor the installer may install cabling and electrical parts.  The electrician would be installing the cabling between the head unit and the outdoor unit as well as getting power from the house to the unit.
An electrical contractor's licence is held by a business or person that allows them to conduct electrical work. To hold an electrical contractors licence you must have insurance and have passed further education.
Just-In Time Electrical is an electrical contractor with and electrical contractors licence.  We employ electricians with electrical mechanics licence's and also hold restricted refrigerant licence.  This means we are correctly licensed to install all facets of a split system air conditioner up to 18kW.
Quality Products:
With the ever changing supply chain it is important to check the quality of the products being installed.  We have seen the issue with the infinity cable sold at Masters, we only deal with reputable wholesalers and products that are tried and tested.  All products that are sold by our major supply partner Hayman's are backed by strict sales contracts.  As a company we work hard at picking products that we can back, because at the end of the day it's's our reputation on the line.
Warranty:
It is important that when choosing an air conditioner that you pick a well known brand with a reputation that is proven in the market.  It's not worth saving a couple of hundred dollars by buying a cheap rip off only to be let down in six months time when the unit doesn't work and the company is nowhere to be found.  We can supply most major brands at competitive prices, however we carry and recommend  Mitsubishi Heavy Industry units.  Mitsubishi HI are market leaders in the air conditioning sector and are continually improving on quality and efficiency.
Pressure testing:
This is a very important test carried out on the copper piping between the head and external unit to ensure that there are no leaks.  It's a common perception that air conditioners leak gas and they just need topping up.  Nothing could be further to the truth.  It is extremely bad to let the gasses contained inside an air conditioner to be let out into the atmosphere.  That is why we have strict licencing requirements for the installation of air conditioning.
Once the piping between the units is completed it is required to be tested to ensure there are no leaks, this is done by pressurising the pipes with harmless nitrogen.  Once the nitrogen is in the system all joints are checked for leaks and a check is done via guages to ensure that the pressure put into the system is maintained.
Micron Meter:
Don't know what one of these is, don't be surprised if your installed doesn't either.
Before introducing the gas from the air conditioner into the pipes you need to first ensure that the normal atmosphere/air is sucked out, this is done using a strong vacuum.  Most installers will leave the vacuum on for 30 mins or so and guess that an appropriate vacuum has be obtained.  We know better and so do the standards, even the manufacturers call for the use of a micron meter.  This allows the installer to measure what vacuum is achieved and therefore rule out any mistakes.
Drains:
When the air conditioner is cooling a room the indoor head unit pulls the moisture out of the air which condensates on the cooling coil and then running off into the head unit drip tray, every head unit has a drain which is then run out of the unit and outside.  It is important that this water from the head unit is appropriately dealt with because during a hot humid day you can produce in excess of  a bucket of water.  If this is let run off into footings it can increase the risk of termites and subsidence.  We run our drains as per the standards and connect them to the house plumbing system.
Electrical testing:
One of the most important parts of any electrical work is testing, unfortunately many electrical contractors out there don't even know where to begin.  The AS3000 (wiring rules) requires that all electrical work carried out is tested to meet the requirements.  This is imperative to ensure that your electrical system is electrically safe and not putting you or your family at risk.
Connections:
When doing the connections of the copper piping to the external and internal units it is important that these are done to the manufacturers specifications.  Manufacturer's recommend that flares are tightened to a certain torque and there should be no guessing what this is.  At Just-In Time Electrical we tighten all joints to the manufactures specifications using a torque wrench.
Brazing:
When connection pipes inside the house or ceiling space it may be required that the joints are joined by a method of brazing.  This is when the pipes are heated up and silver solder is applied to seal the joint.  When carrying out this work it is important that nitrogen is blown through the copper pipes to stop oxidisation on the inside of the pipe which leads to blockages in the parts of the air conditioner.

YOUR TRUSTED LOCAL SPARKY
5 YEAR WORKMANSHIP
TIMELINESS
CLEANLINESS
CLIENTS WE WORK WITH
As your leading home, commercial and industrial electricians in Brisbane, we have provided electrical services to some of the leading brands in Brisbane.
OUR COMMUNITY SUPPORT AND FUND RAISING
As electrician in Brisbane, we believe that as it is important for us as Brisbane electricians to give back to our local community that helps support us. We currently sponsor several local sports clubs and fund raising clubs. We believe that these community groups are the backbone to community spirit. The sports clubs we sponsor provide great facilities and training for the young kids and also help generate community spirit with their social functions.