24/7 Electrician Services Brisbane CBD
No Power? No Problem!
If you have a house or apartment in Brisbane CBD you need an expert electrician. Just-In Time Electrical has been working in the local area for the last 10yrs. We run a full Emergency electician service that is available 24/7, 365 days a year. So if you have lost power or lights in your house or business call us first we can be there quick and get your power restored.
What after-hours services do we provide:
Fallen power lines
Tripped power or lights
Switchboard fires
Hot water issues
Lights not working
Power not working
Tripped safety switch or ciruit breaker
Blown fuses
If you want to check for local power issues in your area visit the Energex website and put in your postcode. Their site gets updated every 15 mins so you will be kept up to date with local power outages in your area.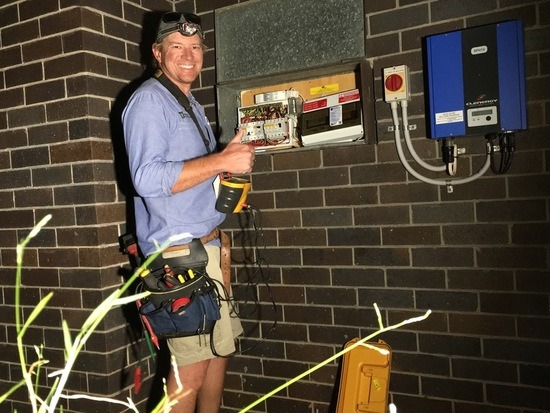 No Hot Water?
So you've got up early jumped in the shower and got a nasty shock – NO HOT WATER! Don't worry we are on call 24/7 to help you out. First go to the hot water system and check the hot water outlet pipe if that is cold and you don't think you have used all you hot water yet then chances are you have blown and element of have a faulty thermostat. If the pipe is hot it could be the mixing valve that is faulty – this is a plumbing issue but feel free to call us and ask for some advice if you are unsure.
Blown Fuse:
So you've found you have a blown fuse, be very careful fuses and old boards can be very hazardous. If at any time you don't feel competent with what you are doing stop straight away and call an Emergency Electrician. Turn the power off at the main switch, remove blown fuse holder and replace fuse wire, being sure to replace it with the same size wire. Once completed re-insert fuse holder and turn on power. If it blows again you may have a fault in an appliance or wiring. Go though the premises and unplug all items and try replacing the fuse again. If the problem persists contact you local electrician Just-In Time Electrical.
No Power? No Problems!
Tripped power is the most common call out in the Western Suburbs – the most common reason the power trips out is due to a faulty appliances or water. So if you have a tripped safety switch and you feel competant then give this a try:
Attempt to reset safety switch
If it trips again – then unplug all appliances affected
Attempt to reset safety switch again
If it trips again – you may need the expertise of Just-In Time Electrical
If you are able to reset it then plug back in your appliances one at a time
When the power trips off again that is the likely appliance so leave it disconnect
Once power is restored always check the operation of the safety switch one final time by pushing the test button.
Major faults - Power lines down or switch board fires:
This is when it is important to be vigilant – electricity can kill and it is hard without the correct tools to see or detect it. If you see fallen power lines that belong to the Energex network ensure nobody goes close and call Energex immediately on 131962. If the power lines are on your property call Just-In Time Electrical for a fast response.

YOUR TRUSTED LOCAL SPARKY
5 YEAR WORKMANSHIP
TIMELINESS
CLEANLINESS
CLIENTS WE WORK WITH
As your leading home, commercial and industrial electricians in Brisbane, we have provided electrical services to some of the leading brands in Brisbane.
OUR COMMUNITY SUPPORT AND FUND RAISING
As electrician in Brisbane, we believe that as it is important for us as Brisbane electricians to give back to our local community that helps support us. We currently sponsor several local sports clubs and fund raising clubs. We believe that these community groups are the backbone to community spirit. The sports clubs we sponsor provide great facilities and training for the young kids and also help generate community spirit with their social functions.