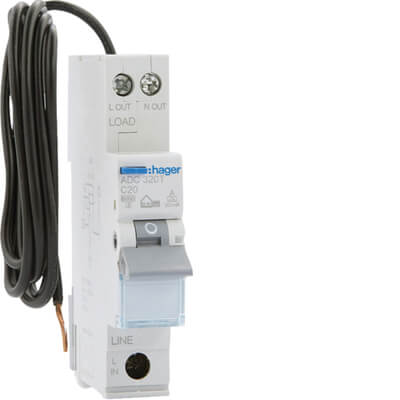 Premium Hager Safety Switch Circuit Breaker (RCBO)
You don't want to miss out on this special, the new AS3000:2018 is now in force and it requires safety switches to be installed on all residential circuits.  Safety switches were and still are the biggest game changer in the electrical industry.  A safety switch measures the power going out on a circuit and how much comes back and with a difference of just 30mA it sees the fault and trips of within 300mS.  This is quick enough to stop an electric shock having affect on the body or heart rhythm.  There are many types of safety switches but the most effective and best ways to have safety switch protection on your circuits is with an RCBO or a  safety switch circuit breaker.  These devices do the work of the safety switch and a circuit breaker in the one device and its only a single pole device with means it is easily installed into an existing switchboard.
This is a great opportunity to take advantage of this special and get your protection upgraded to protect you and your family.
These RCCBO's are suited to all circuits including:
Power, pool, lights, kitchen, laundry, garage, air conditioning, hot water, pumps, septic, three phase and many more.