Your business requires the right power solutions to operate efficiently and profitably. After all, without the right electrical set-up, you're not going to be able to deliver services or keep products properly stored and managed. Finding the right commercial electrician for your business needs is a critical risk mitigation measure for your company. 
In this post, we'll explore the different ways to ensure that you hire the right commercial electrician for your business.
Ask Around
The easiest place to start when it comes to your search for the right electrician is to ask your peers, friends and fellow business owners for any recommendations. After all, a referral from a trusted source is the best way to ensure that the electrician you choose is worth your time and money.
Conduct Your Research
Once you have a list of recommendations, it's important that you conduct your own research. Visit the electrician's website to get a feel for the kind of services they provide, any certifications they may have, and the different businesses they have worked with in the past.
You'll also want to check the electrician's customer reviews online. This gives you an essential insight into how the electrician's work – and their customer service – has been received by their past customers.
Consider Their Industry Knowledge
It's important that the electrician that you choose has the right knowledge and experience to provide you with the advice and services for your business. This includes understanding the legal requirements of your particular industry, the latest safety standards, and the different components that are required for the electrical setup of your premises.
For larger businesses, you may also want to consider finding an electrician who can help you with bigger projects, such as wiring and installation of lighting and security systems.
Weigh Up The Costs
Of course, cost is always an important factor when it comes to choosing a commercial electrician. While you'll want to ensure that you're getting a good value service, keep in mind that the cheapest quote isn't necessarily the best. Comparative quotes are a great way to assess different electricians and get a feel for what will be provided in the particular quote.
Ensure That You're Covered
When selecting your commercial electrician of choice, check they are insured and that their insurance covers any faults or damage that may occur while the work is taking place. 
Choosing the right commercial electrician for your business needs is an important part of ensuring your premises runs smoothly. Just-In Time Electrical's experienced commercial electricians offer a comprehensive range of services that cover all types of business needs. Get in touch with us today to better understand how we can help you.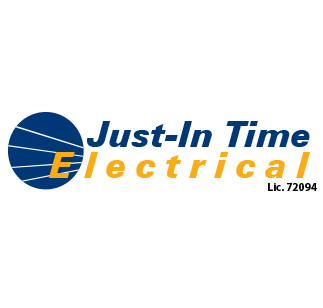 Just-In Time Electrical is your local leading electrical contractor based in Brisbane's western suburbs. Just-In Time Electrical has been operating for over 12 years and draws on a combined knowledge base of over 30 years.