16% of all fires in Australia occur in the home, yet these incidents account for 95% of all fire-related deaths!
78% of these house fire deaths happen between midnight, and 8.00 am.
Further research indicates that this death toll can be significantly reduced by up to 50% when working smoke alarms are installed.
Photoelectric smoke alarms have light-sensitive sensors that quickly detect smouldering fires. They are also known as optical or photo-optical smoke alarms. These alarms work when smoke particles deflect an LED light beam emitted within the alarm chambers. When deflected, the LED rays hit a photosensor in another chamber, and the alarm sounds.
Smoke Alarm Laws in QLD
New smoke alarm legislation was introduced in Queensland on 1 January 2017, requiring all landlords to fit interconnected photoelectric smoke alarms in residential properties. In addition, all other domestic dwellings that had previously installed smoke alarms must transition to interconnected photoelectric alarms by 2027.
Since then, several measures have been instated to ensure residents' safety in the event of a fire. These require all smoke alarms to:
Comply with the new Australian Standard 3786:2014
Be interconnected
Be powered by either a non-removable 10-year lithium battery or hard-wired into a 240-volt power supply
Be photoelectric
Be installed in each bedroom
5 Facts About Photoelectric Smoke Alarms
Photoelectric smoke alarms can detect fires at a faster rate when compared to traditional smoke alarms. They are therefore highly recommended by the Queensland Fire and Rescue Service.
When distinguishing between ionisation and photoelectric smoke alarms, the former usually has a radiation symbol on the back of the alarm.
Photoelectric smoke alarms do not use radioactive material to detect fires and smoke.
Whereas ionisation smoke alarms apply electrically charged particles to detect fire or smoke, photoelectric smoke alarms deflect light beams when smoke particles come into contact with the light sensor.
Photoelectric smoke alarms can alert you and other family members in the event of a fire or smoke, even when you are not in the house. By connecting them wirelessly to your phone, you can immediately receive alerts and notify fire authorities.
Smoke Alarm Installation in Your Queensland Home
Keep your Brisbane property safe. Just-In-Time Electrical has the technical knowledge and capability to install photoelectric smoke alarms in all areas of Queensland. Let's ensure your home is compliant. Contact us today.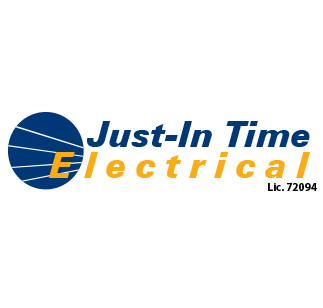 Just-In Time Electrical is your local leading electrical contractor based in Brisbane's western suburbs. Just-In Time Electrical has been operating for over 12 years and draws on a combined knowledge base of over 30 years.