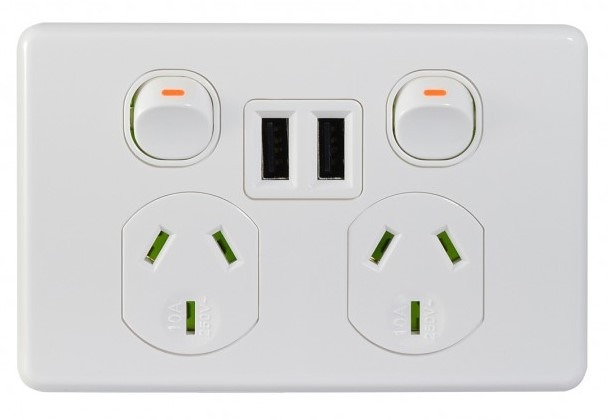 Premium Double Power Point with USB Charger
just $99+gst installed*
(normally $120+gst each)
These double power points with USB integral USB chargers are great!  Trader an Australian company has hit the market running brinning out inovatie products like this.  This double power point with USB charger is rated to run at 3.4A at 5V with one device plugged in, when both outlets are being used it simply splits the load between the outlets.  Unlike some dodgy USB chargers you see on the market this one fully complies with AS/NZS 60950.1 and has thermal and overload protection.  No need to go searching through the draws you USB Charger is just there ready to go.
This combination double power point and USB charger is great in:
Bedrooms
Kitchens
Study areas

Games room

Media room
*Supply and replace in existing position one standard existing power point with Trader double power point with dual usb charger, minimum quantity is 2, existing wiring and installation must be compliant with AS3000:2018.
*Does not include call out fee